Illustrations of hardwood floors and other types of flooring are one of the things we do best at Kub Studio. For more than ten years, we have been building and refining our extensive experience in this specific field and can now successfully meet any kind of challenge when it comes to skillfully rendering wood flooring and floor coverings. Here's a little overview of this area of our expertise.
3D RENDERING FOR FLOORING: LONG-STADING EXPERTISE AT KUB STUDIO
Illustrations of hardwood floors and other types of flooring are one of the things we do best at Kub Studio. For more than ten years, we have been building and refining our extensive experience in this specific field and can now successfully meet any kind of challenge when it comes to skillfully rendering wood flooring and floor coverings. Here's a little overview of this area of our expertise.
THE CHALLENGE  IN RENDERING FLOORING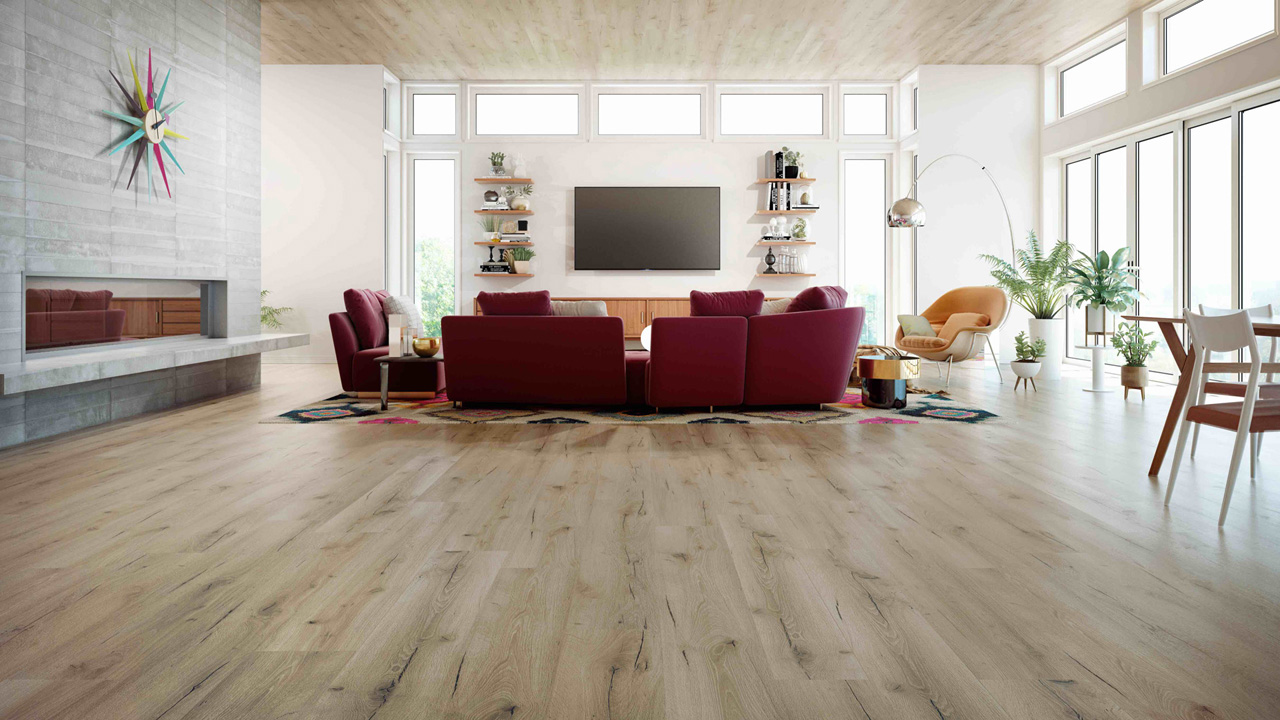 Each type of flooring you sell is uniquely defined by its manufacturing process. In our profession, the real challenge lies in effectively creating an image that accurately depicts all the particular characteristics of an individual floor. Every wood floor has inherent properties, and an image must be able to accurately express the actual rendering as it will look once installed for your client.
Our task is to create an image that brings the floor to life, as this will help simplify the selection process for your clients, who are faced with a vast choice in terms of all the different collections and ranges and often wonder what a certain type of floor will look like in their new kitchen, dining room or living room.
Installing hardwood floors is a major decision and can completely change the overall look of an interior design. That's why it's important to provide clients with the best tools possible so it's easier for them to make their final choice based on samples, simulations and illustrated catalogues that allow them to project themselves into their future environment.
OUR STRENGTHS 
Unparalleled expertise in the characteristics of hardwood
Wood colors, tones, finishes

 
Whether the color of the wood is natural or stained, whether the wood is untreated or engineered, everything hinges on the photo shooting of the product sample.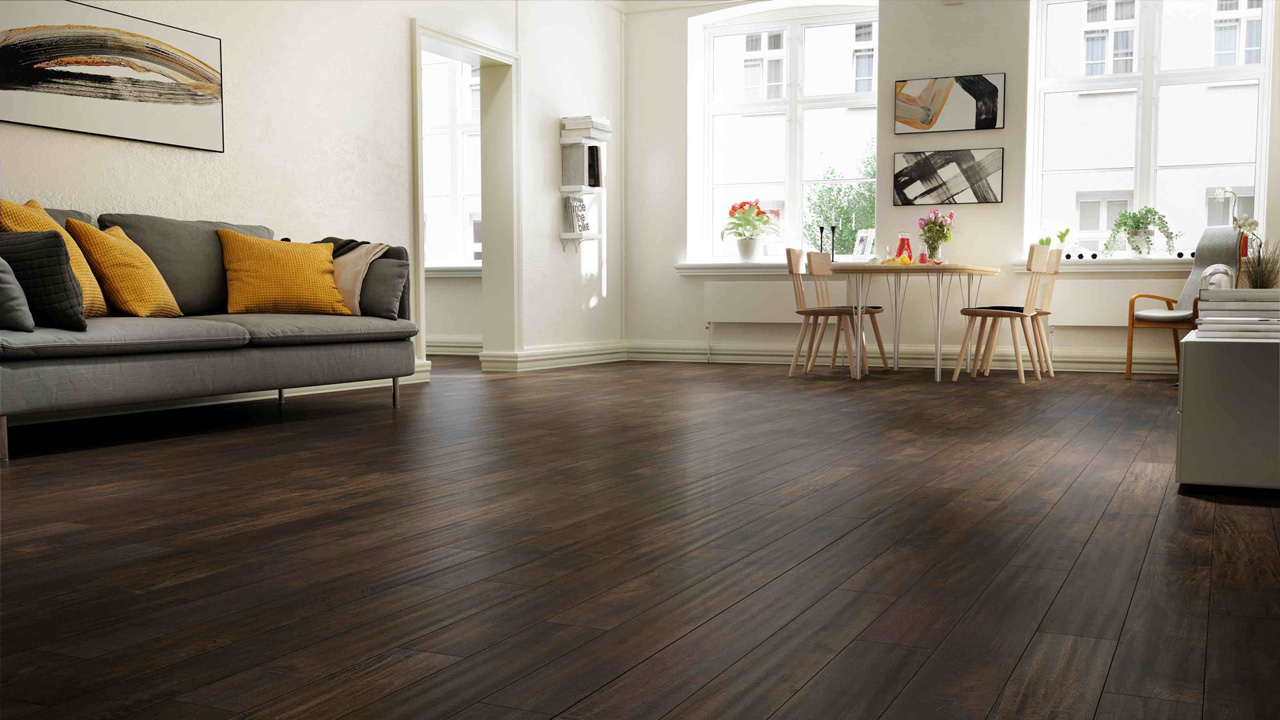 The constraints for a light-colored wood are going to be different than those for a darker one when it comes to rendering the texture of raw or processed wood. The distinguishing features of an exotic wood aren't the same as the characteristics that differentiate let's say maple from red or white oak, ash, walnut or cherry. Each species of wood has its own specificities, its own grain, either fine or dense, smooth, and with or without knots and veins, etc.
Each floor has its own distinct character and the subtle variations in the color and texture of the floorboards that flooring manufacturers are capable of producing are virtually infinite…
Our work consists in setting the tone and creating a universe that corresponds to each type of flooring in a way that brings out the floor's distinctive qualities.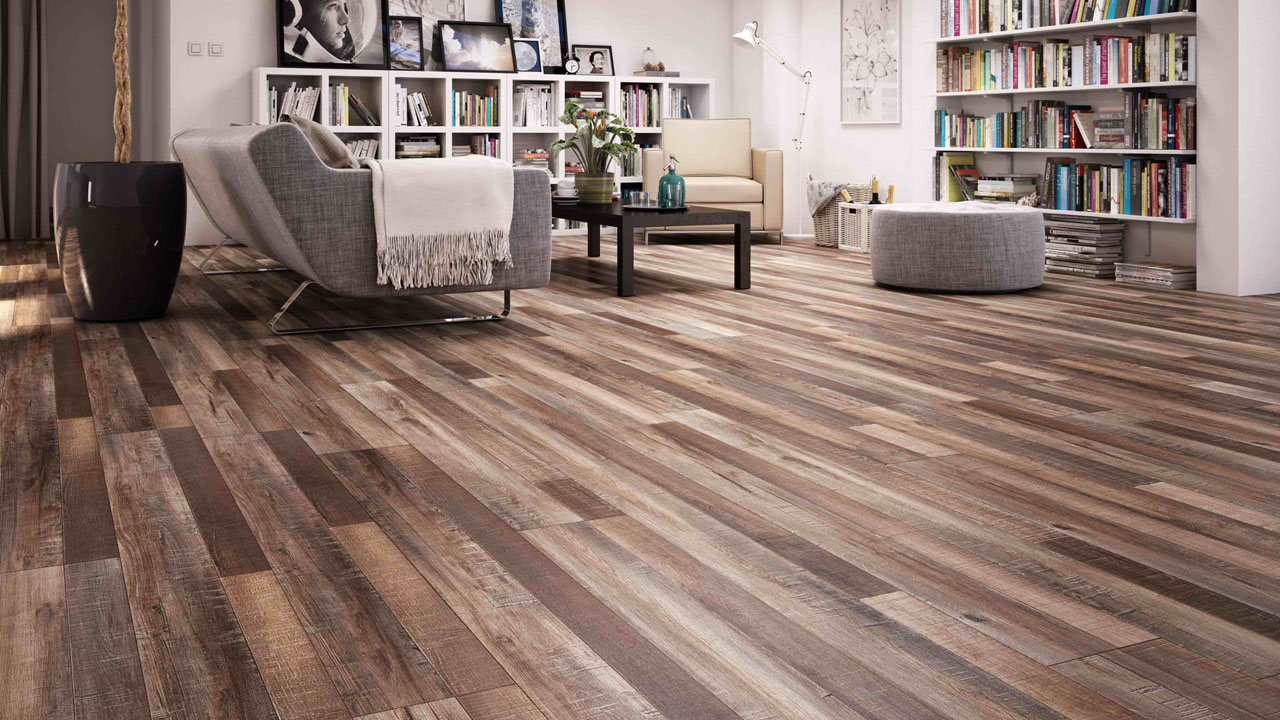 The wood can also be given certain effects, and this will also change the requirements when it comes to taking the photo of a sample. These effects include hand-sanded or weathered finishes, a vintage look, bleached wood, recycled timber or distressed wood effects, an artisanal appearance, the presence of knots and veins in the wood, a time-worn appearance, barn lumber, a rustic look, floors with harmonious lines or patterns, natural imperfections or uniformity, etc.
A wood floor with a gloss, satin, mat or oiled finish

 
Rendering a floor's specific finish is a specialty in its own right when it comes to creating the ultimate scene in the 3D software.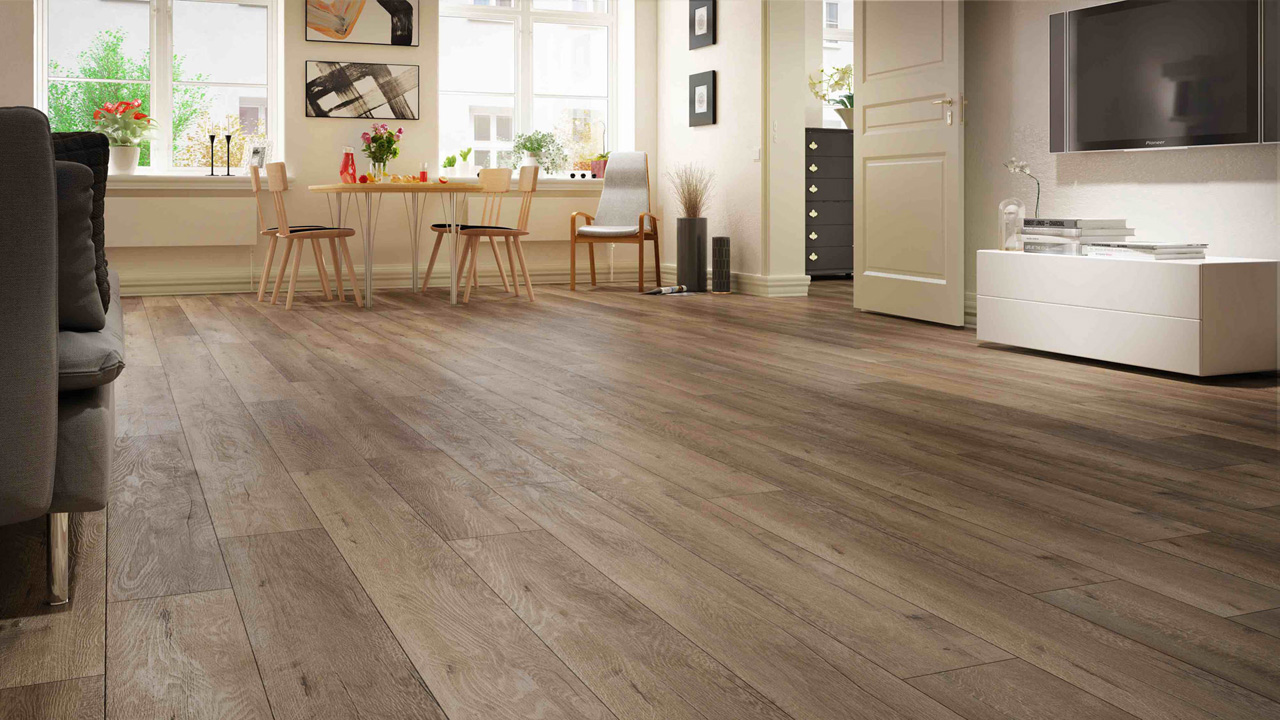 Gloss, oiled and satin floors, unlike mat or brushed ones, are going to reflect the room's natural and artificial lighting. It is down to the 3D designers to depict and showcase these reflections as realistically as possible using 3D modelling software (and you can take our word, it's an art in itself).
Choosing the light for wood flooring
What's more, a floor won't look the same at night as it does by day. Morning light differs from afternoon light, and the lighting used for a kitchen isn't the same as the lighting chosen for a living room. These same rules apply when choosing the lighting for a 3D environment because lighting will have a considerable impact on the final rendering of the floor in the CG image.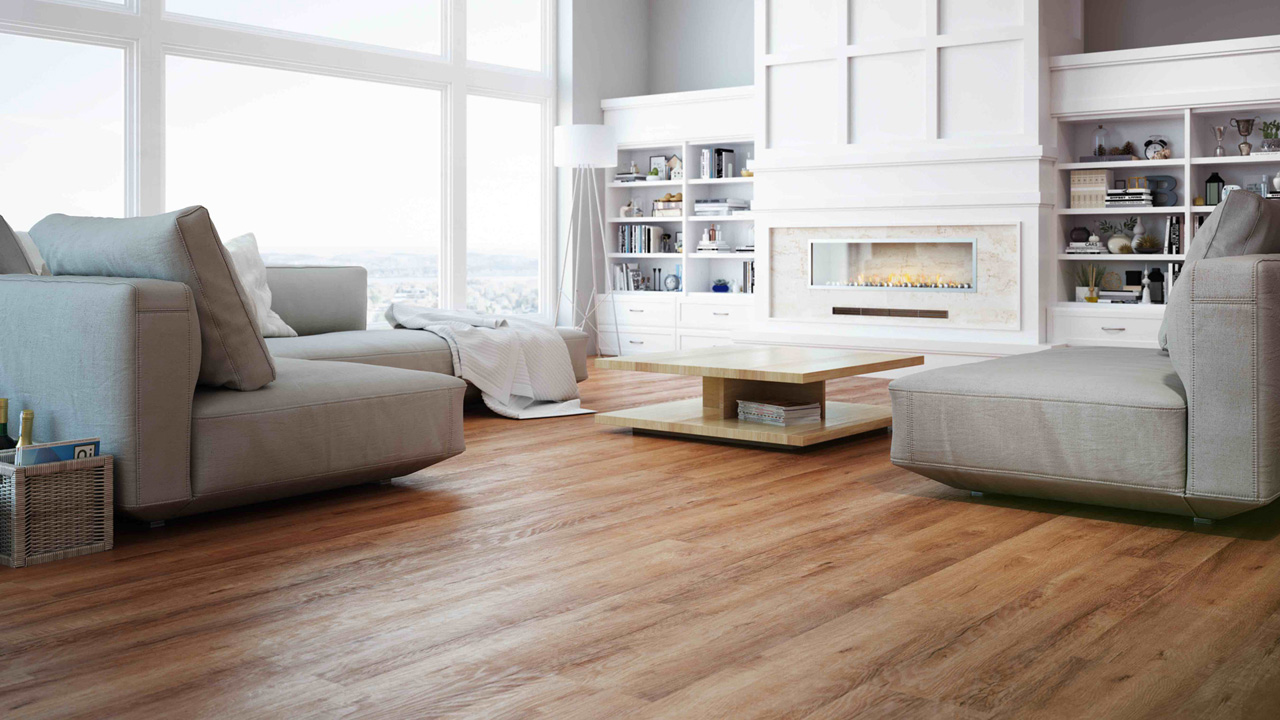 The creative work carried out using 3D software will vary according to the chosen photorealistic decor, the type of room and the desired ambiance. The end result of a 3D rendering of the wood finish is therefore closely linked to the quality of the photo that is
taken of the wood texture. We aim to establish the most neutral conditions possible when we take the photo so that we can then work on and fine-tune the wood variations and finishes using the 3D modeling software itself. It is essential to avoid any type of visual inconsistency that could potentially have an impact when the wood is finally integrated into the 3D scene.
A PHOTOGRAPHIC APPROACH TO OUR PHOTOREALISTIC RENDERINGS
Thanks to our studio's many years of experience in photography, we've been able to develop an infallible technique for creating truly photorealistic renderings of floors.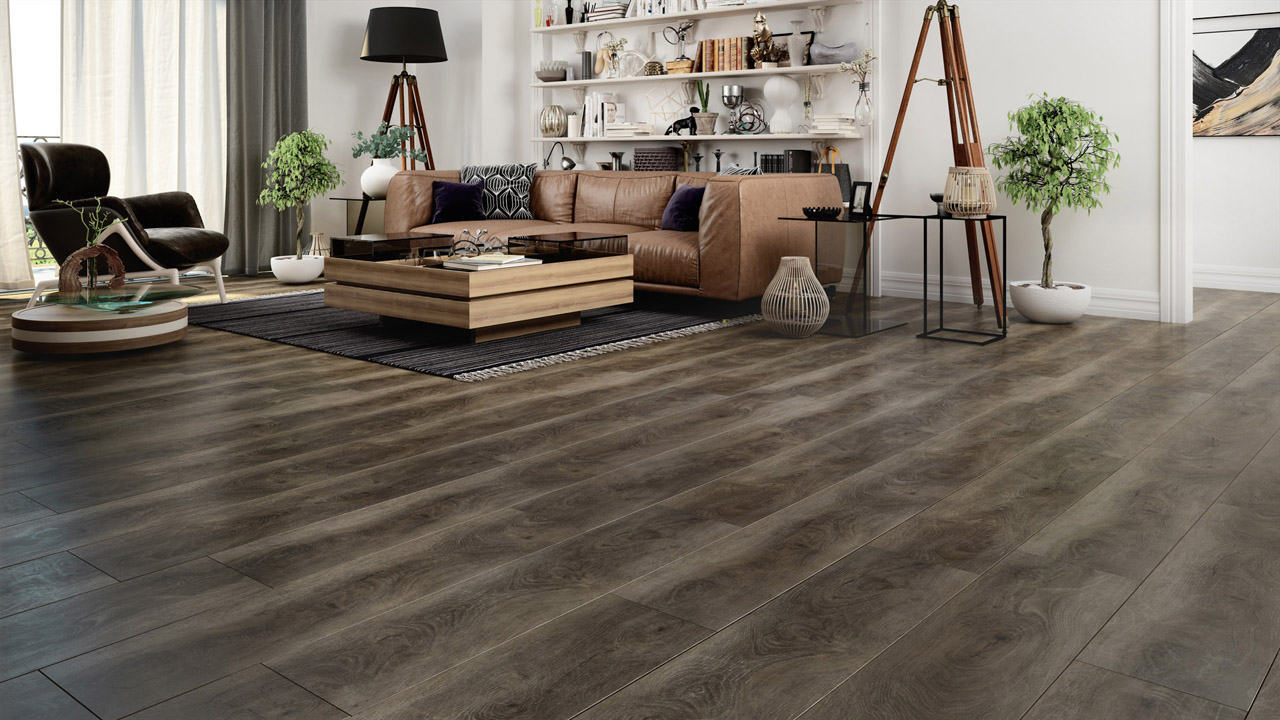 his expertise in the field of photography has also enabled us to develop a customized methodology built on years of trial and error in this field of expertise. The end result is an ultra-precise and well-rounded technique and the development of our own top-quality textures.
A customized photo studio for texture samples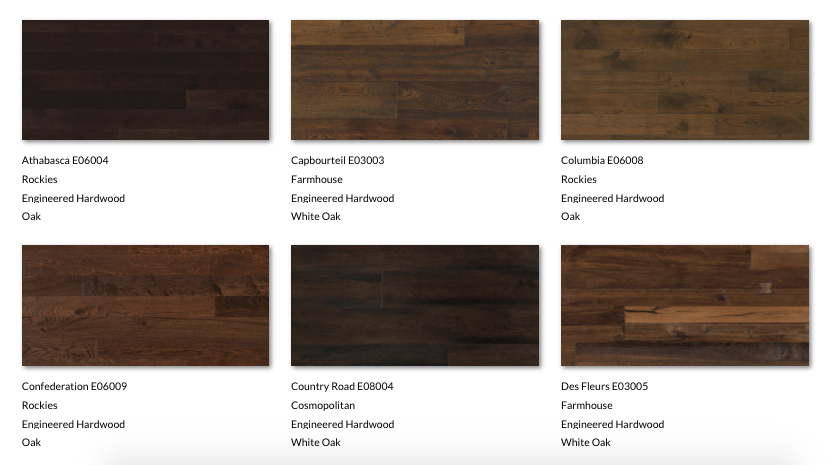 >>>> See more samples of hardwood floors for Divine Flooring.
Samples are the key to success when creating a photorealistic 3D surface. Kub Studio has developed its own distinctive technique that guarantees that every aspect of your product is perfectly depicted, including the wood's texture, color, grain and effect.
Working solely with a photo of the physical sample taken in our studio, we can create the texture that will be subsequently integrated into the interior design. For the sample, we don't need a large surface area of flooring: a minimum amount will yield maximum results.
The ultimate goal is to depict your product on screen exactly the way it looks in the real world, in other words so that clients will be able to see it in real-life surroundings. We monitor the entire process in-house according to our strict quality standards and if they are not met, we will retake the shot of the sample without it affecting the budget.
This photo, which will serve as the basis throughout the creative process of the CG image, can also be used as a sample for your product catalogues.
More info about wood swatches au +1 877 687 4114 or studio@kubstudio.com
3 common errors we know how to avoid
The expertise required to render wood flooring is, when all is said and done, similar to the expertise called on by flooring installers… except it's done on screen! Installers face the same challenges when it comes to laying down a floor for a client as we do.
For flooring manufacturers, it's important that the CG image depicts the wood flooring exactly the way it will look once it's been installed for the client.
Our creative process therefore takes into account this installation criteria, which is established at the time we take the photo of the texture sample and without which going one step backwards would not be an option.
Refection and lighting issues It is immediately apparent when there's a flaw in the wood's texture in a CG image. This problem is most often due to a reflection being too pronounced. The objective here is to accurately capture the wood grain without creating any highlights when taking the photo because these false reflections, or tiny spots of light, irrevocably alter the color of the wood, making it impossible to adjust using 3D software.Having a effective studio lighting technique is crucial if you want to avoid this type of outcome.
The "Staircase" effect When the distance between the joints in the boards is exactly the same for several consecutive rows, the lines in the floor give the impression of a staircase.
The "H" effect When the boards look too symmetrical, you get what is called an "H" effect because this repetition affects the overall harmony.
APPLICATIONS IN MARKETING
TAILOR-MADE AMBIANCES FOR WEBSITES AND CATALOGUES 
Have you ever met a client who didn't want see an example of an environment that integrates the floor they're thinking of choosing for their new home? The answer is obviously NO.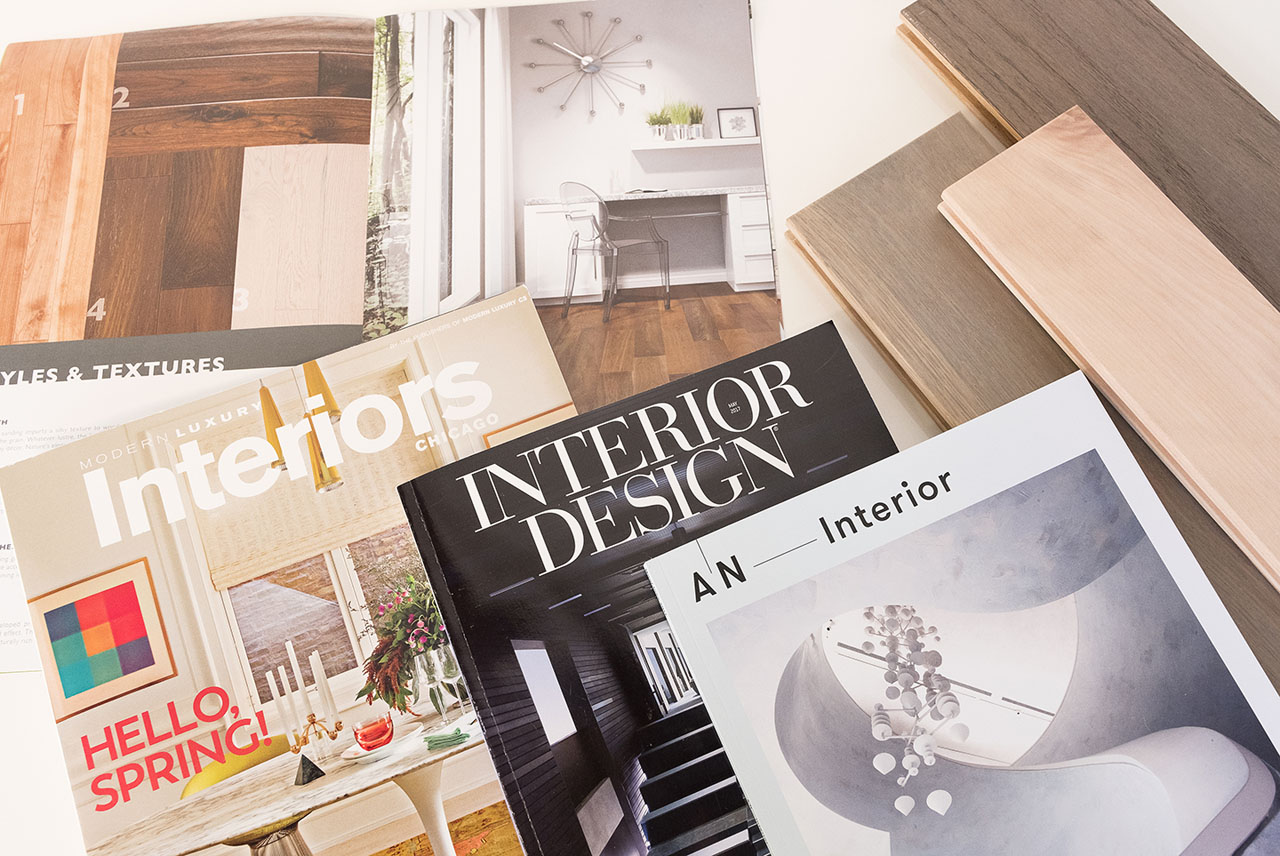 A client's choice of flooring will determine the overall interior design for their home, the place where they will be spending many hours and even years of their life. That's why it's important to understand their needs and provide them with the tools that will best optimize their experience with your brand.
Providing a 3D visualization of your floors will give you the chance to show clients all the different available options thanks to examples and tangible and relevant environments that they can easily identify with.
A kitchen, living room, dining room, open-plan space, games room: there are just as many design options for showcasing your floors as there are types of customers you're seeking to target.
An entire range of flooring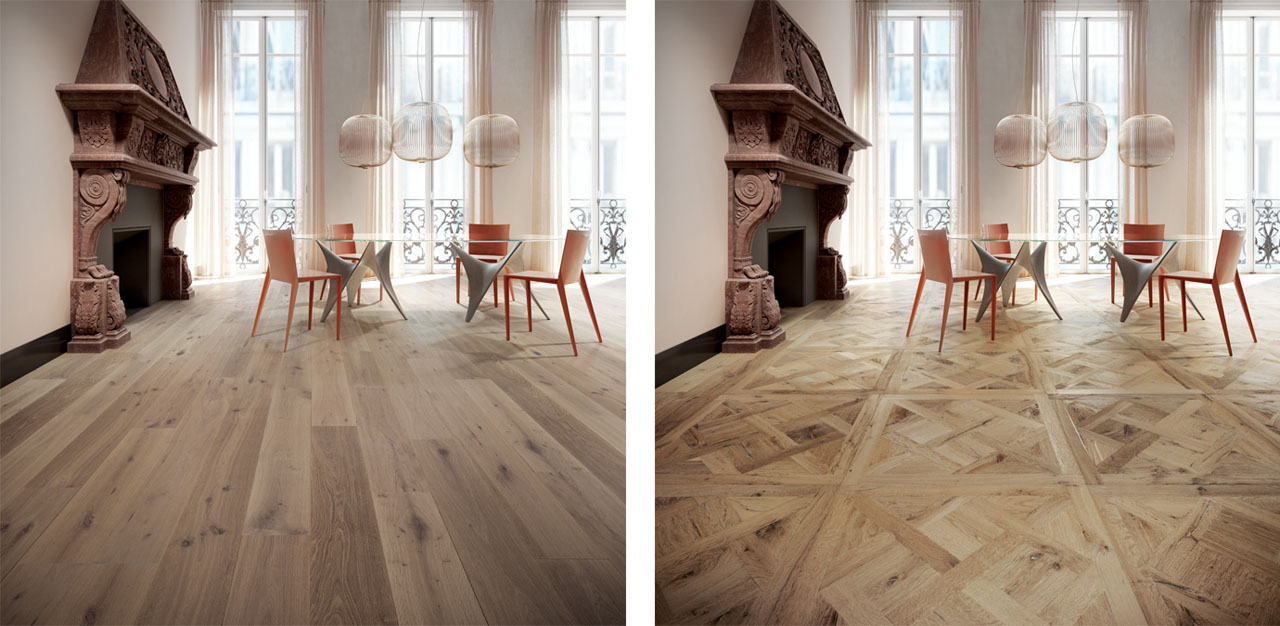 Imaginez sur votre site internet, la possibilité du client de pouvoir choisir une scène et d'y changer le plancher en seulement quelques clics…Pas besoin de redire à quel point l'imagerie 3D vous permet de montrer toute votre collection avec une seule
Just imagine having a website where clients have the opportunity to select a scene and then, with just a few clicks, change the room's floor surface. There's no need for us to go on and on about how useful 3D imaging is when it comes to showing your entire collection using just one 3D rendering.
The same scene can be used to show clients all your color samples, both on your website and in the store.
A highly cost-effective and practical solution!
USING A CG IMAGE TO CREATE A VIDEO ADVERTISEMENT FOR YOUR FLOORING
Integrate your pre-existing CG images into a video, add a few travelings and some background music, and you've got yourself a marketing video at a more affordable cost.
3D imaging allows you to create a range of marketing tools using pre-existing 3D scenes. And this is where you can really save money. You don't necessarily need to use animation. All we need to do is move around within the CG image itself by simply changing the viewing angles and presto, it's done! We can also include a whole range of products to show diversity.
MAKING CHOICES USING VIRTUAL REALITY
We have taken our expertise to the next level by creating an application that allows users to put on a virtual reality headset and instantly immerse themselves in a 3D scene and then change the floor surface in real time!
This is a true revolution in user experience because users can now see, live and first-hand, the end result of the installed floor before the renovation work has even begun!
See our Floorings board on Pinterest
FLOOR COVERINGS AND SYNTHETIC SURFACES
Our expertise goes far beyond hardwood floors. Our experience is also put to profitable use for a wide variety of other types of surface such as ceramic tiles, floating floors, carpet, linoleum and synthetic materials.
Here are a few of our projects depicting various floor coverings:
Sign up for our newsletter if you'd like to read more articles like this one: